Oklahoma Tribal Nations are major drivers of Oklahoma's overall economy, ranking as a Top 10 industry. As sovereign nations, tribes deliver key safety-net services and invest billions in businesses that benefit both tribal members and all Oklahomans.
$12.9 Billion
In 2017, the total economic impact that tribes made in Oklahoma was $12.9 billion. In addition to direct contributions, tribes generate billions in production by companies that support tribes' business operations.
96,177 Jobs Supported
Oklahoma tribes support 96,177 jobs in the state, representing $4.6 billion in wages and benefits to Oklahoma workers.  While direct employment exceeds 50,000 jobs, tribal investment spurs job growth in many different industries.
Investment in Community
Over $1.5 billion in exclusivity fees for public education and mental health services
Saved Oklahoma $88 Million by requiring no state matching Medicaid funds last year
27,000 miles of highways and roads are supported by Oklahoma Tribes
"Although corporations often move headquarters from city to city, tribal jurisdictional boundaries are permanent guaranteeing their contributions will remain in Oklahoma for years to come."

Lisa Johnson Billy, Secretary of Native American Affairs
Total Economic Impacts from Oklahoma Tribes in 2017
| | Employment | Payroll | Value-Added | Output |
| --- | --- | --- | --- | --- |
| Direct Effect | 51,676 | $2,693,238,889 | $5,021,143,625 | $7,312,449,836 |
| Multiplier Effect | 44,501 | $1,956,672,633 | $3,135,166,727 | $5,619,880,332 |
| Total Effect | 96,177 | $4,649,911,522 | $8,156,310,352 | $12,932,330,170 |
While gaming operations are most commonly associated with revenue growth, Oklahoma tribes contribute in numerous ways through tribal government activity, tribal businesses and capital projects. Tribal governments provide programs and services for tribal citizens and generate economic activity similar to any federal, state or local government. Tribal governments use dollars from federal sources and tribally owned business to provide programs such as workforce development, housing assistance, education, health care and many other services. A diverse portfolio of tribally owned businesses funds these safety-net programs and provides jobs and community support, especially in Oklahoma's rural communities.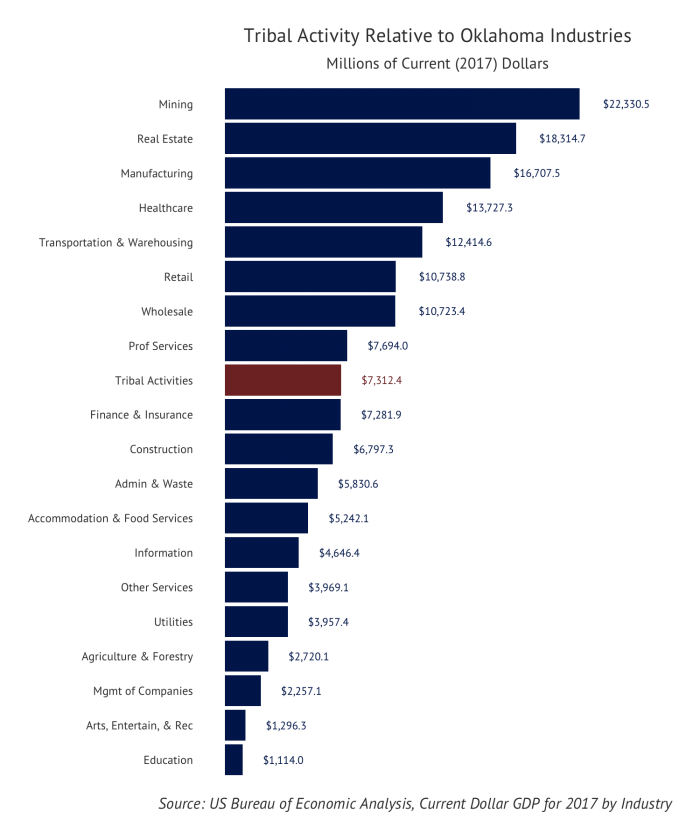 Employment supported by tribal activities increased by 10.3% over the 6-year period and output increased by 19.8%. By comparison, the state of Oklahoma experienced a 4.88% increase in total employment and a 13.5% increase in output as measured by GDP over the same period.
Because tribes are permanently located in Oklahoma they remain a reliable economic contributor to the state, especially important in rural communities. In fact, in 2017 alone, numerous tribes directly supported a number of community projects and goals.  Such support comes in the form of donations and sponsorships, and was found to be more than $61 million dollars.
Tribal Contributions to State and Local Communities
| | Local | Statewide | Total |
| --- | --- | --- | --- |
| Education | $923,027 | $13,333,667 | $14,256,693 |
| Government | $22,118,422 | $3,914,304 | $26,032,726 |
| History and Culture | $233,604 | $5,222,473 | $5,456,077 |
| Health and Fitness | $117,387 | $3,030,364 | $3,147,751 |
| Other | $4,174,985 | $8,090,887 | $12,265,873 |
| Total | $22,567,424 | $33,591,695 | $61,159,120 |
Critical Services that Support Oklahomans